Description
This project developed an algorithm that combined nonlinear filtering, active contour modeling, statistical thresholding, and morphological post-processing into a novel algorithm that can robustly segment brain MRI images. The runtime of the presented algorithm is significantly faster than manual segmentation and other existing semi-automated segmentation workflows, and the algorithm was still very effective at extracting the relevant brain tissue from the MRI images. The algorithm was less effective at removing the eyes, cerebellum, and dura mater, but these issues can be easily overcome in the future with improvements in preprocessing the image. Future work for this should focus on employing more advanced statistical techniques in the image segmentation algorithm. 
Two particular areas of interest are using more advanced computer vision techniques to identify and remove non-brain tissues in the lower brain slices, and use statistical learning
techniques to more accurately predict the geometric evolution of the brain between slices according to the Hamilton-Jacobi equation. Overall, nonlinear filtering significantly improves the performance of active contour models in environments with weak edges, and combining statistical and morphological techniques with nonlinear filters and active contours can very efficiently segment brain MRI images at a level of accuracy suitable for neurosugery and 3D printing applications.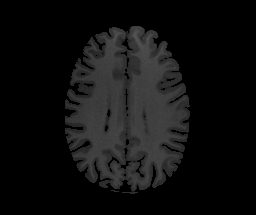 [1] M. A. Balafar, A. R. Ramli, M. I. Saripan, and S. Mashohor, "Review of brain MRI image segmentation methods," Artificial Intelligence Review, vol. 33, no. 3, pp. 261–274, January 2010.
[2] M. B. Panzer, B. S. Myers, B. P. Capehart, and C. R. Bass, "Development of a finite element model for blast brain injury and the effects of CSF cavitation," Annals of Biomedical Engineering, vol. 40, no. 7, pp. 1530–1544, February 2012.
[3] M. Balafar, A. Ramli, M. Saripan, R. Mahmud, and S. Mashohor, "Medical image segmentation using fuzzy c-mean (fcm) and dominant grey levels of image," in Visual Information Engineering, 2008. VIE 2008. 5th International Conference on, July 2008, pp. 314–317.
[4] M. Rostami, J. Ghasemi, and R. Ghaderi, "Neural network for enhancement of fcm based brain mri segmentation," in Fuzzy Systems (IFSC), 2013 13th Iranian Conference on, Aug 2013, pp. 1–4.