Description
reference paper :
Zhang, Xiaoyan, Martin Constable, and Kap Luk Chan. "Example-based contrast enhancement for portrait photograph." Pattern Recognition (ICPR), 2012 21st International Conference on. IEEE, 2012.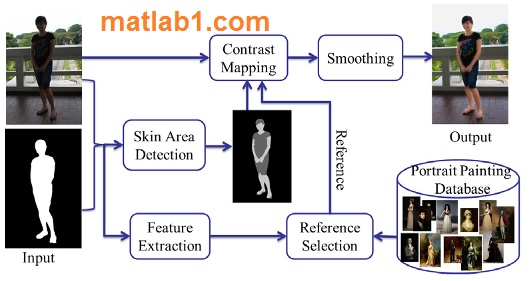 Abstract :
This paper proposes an approach whereby the regional contrasts in snap-shot style portrait photographs are enhanced using pre-modern portrait paintings as aesthetic exemplars. The reference portrait painting is selected based on a comparison of the existing contrast properties of the painting and the photograph.
The contrast style in the selected reference painting is transferred to the photograph by mapping the interand intra-regional contrast of the regions, such as the face and skin area, reminder part of figure, and nonfigure region. A novel two-part partial contrast stretching method is proposed to achieve the contrast mapping.
Finally, the transition boundary between regions is smoothed and the non-figure region is blurred. The experiment results demonstrate the effectiveness of the proposed method.

References :
[1] V. Bychkovsky, S. Paris, E. Chan, and F. Durand. Learning photographic global tonal adjustment with a database of input / output image pairs. In IEEE Conference on Computer Vision and Pattern Recognition, 2011.
[2] S. Chen and A. Beghdadi. Natural enhancement of color image. EURASIP Journal on Image and Video Processing, 2010, 2010.
[3] N. A. Dodgson, M. Grundland, and R. Vohra. Contrast brushes: Interactive image enhancement by direct manipulation. In Computational Aesthetics in Graphics, Visualization and Imaging, pages 107–114, 2009.
[4] Faizan. face detection using skin color. In http://www.mathworks.com/matlabcentral/fileexchange/26849-face-detection-using-skin-color, 2010.
[5] Z. Farbman, R. Fattal, D. Lischinski, and R. Szeliski. Edge-preserving decompositions for multi-scale tone and detail manipulation. ACM Transactions on Graphics, 27(3), 2008.
[6] D. Lischinski, Z. Farbman, M. Uyttendaele, and R. Szeliski. Interactive local adjustment of tonal values. ACM Transactions on Graphics, 25:646–653, 2006.
[7] A. Majumder and S. Irani. Perception-based contrast enhancement of images. ACM Transactions on Applied Perception, 4(3), 2007.
[8] X. Zhang, K. L. Chan, and M. Constable. Depth-based reference portrait painting selection for example-based rendering. In IEEE International Conference on Cybernetics and Intelligent Systems, pages 105–110, 2011.
[9] X. Zhang, M. Constable, and K. L. Chan. Aesthetic enhancement of landscape photographs as informed by paintings across depth layers. In IEEE International Conference on Image Processing, pages 1137–1140, 2011.