Different kind of Endoscopy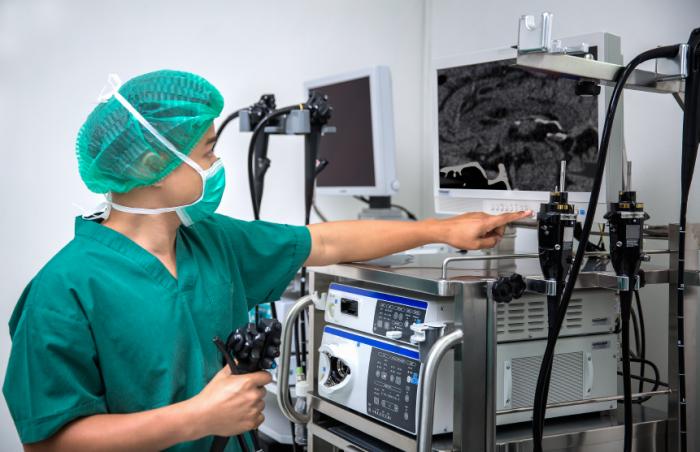 Endoscopy was introduced to examine the interior of a hollow organ or cavity of the body by directly inserting an endoscope inside the body. It has shown tremendous success in examination of gastroenterology (GI) tract. Currently, there are various types of endoscopy available, namely, colonoscopy, bronchoscopy, gastroscopy, push enteroscopy, wireless capsule endoscopy (WCE), upper endoscopy, and so on. The main aim of an endoscopy procedure is to find abnormal lesions (abnormalities) in the part of the body where it inspects. This dissertation focuses on real-time temporal event detection and abnormal image detection of two main endoscopy procedures: WCE and colonoscopy.
Colonoscopy
As the name implies, colorectal cancers are malignant tumors that develop in the colon and rectum. Colonoscopy is the preferred screening modality for prevention of colorectal cancer—the second leading cause of cancer-related deaths in the US . The survival rate is
higher if the cancer is found and treated early before metastasis to lymph nodes or other organs occurs. A large number of colonoscopies are performed each year (e.g., over 14 million in the US alone). During a colonoscopy procedure a device called colonoscope is inserted
into the colon generating thousands of frames as shown in Figure 1 A normal colon consists of six parts: cecum with appendix and ileocecal valve, ascending colon, transverse colon,descending colon, sigmoid, and rectum. Colonoscopy consists of two phases: an insertion phase and a withdrawal phase. The main purpose of the insertion phase is to reach the end of the colon, whereas in the withdrawal phase, careful inspection of all visible mucosa, tissue sampling, polyp removal, etc., are performed.
Wireless Capsule Endoscopy

Most types of endoscopy have limited capability in viewing the small intestine. To address this problem, wireless capsule endoscopy (WCE), a device that integrates wireless transmission with image and video technology, was first developed in 2000. The WCE allows physicians to examine the entire small intestine non-invasively. The size of a typical WCE capsule is 11 mm in diameter and 25 mm in length. The front end of the capsule has an optical dome where white light emitting diodes (LEDs) illuminate the luminal surface of the gut, and a micro camera sends images via wireless transmission to a receiver worn by a patient. Another part of the capsule contains a small battery that can last up to 8 ~ 11 hours. Once the capsule is swallowed, it passes naturally through the digestive system taking thousands of images (typically around 50,000 images) for about 8 hours. Five sample WCE images are shown inFigure 2. And these images are transmitted to a receiver that is worn on the patient's belt. An expert reviews these images to check whether any abnormal lesions are present. Finding mucosal abnormalities such as polyp, ulcer, erythema, erosion, blood, etc. is one of the most essential tasks during the review process of an endoscopy video.

Figure 2 Sample WCE images.